Triple Chocolate Bundt Cake
Cake batter
1 box XO Baking Co. Chocolate Cake Mix
¾ cup (1 ½ sticks) unsalted butter, room temp
½ cup sour cream
2 large eggs
2/3 cup hot or boiling water
¾ cup semisweet chocolate chips
Chocolate and white chocolate topping (optional)
¾ cup (4 oz) semisweet chocolate chips
¾ cup (4 oz) white chocolate chips
2 Tablespoons oil
Preheat oven to 350 degrees. Grease bundt pan. In a large mixing bowl, beat the butter with the cake mix, about 2 minutes. Add the sour cream and eggs, followed by the hot water, and beat until smooth.  Mix in chocolate chips. Pour batter into prepared bundt pan. Bake about 40 minutes until toothpick inserted comes out clean. Cool in pan for 10 minutes then cool on wire rack.  Once cake is cool, you can prepare the chocolate topping.
To prepare chocolate toppings, place semisweet chocolate + 1 tablespoon oil in a microwave safe dish, and white chocolate chips + 1 tablespoon oil in a microwave safe dish. Melt chocolate, about a 45 sec – 1 minute for each dish.  Stir and use a spoon to drip the melted chocolate over the cake.   Add food coloring of your choosing to the white chocolate to make it festive for holidays.
One of my all time favorite desserts is Lemon Cake. Not a fancy lemon cake.  Just your traditional lemon bunt or loaf cake with the almost transparent glaze on top.  My good friend Sheryl, from Culinary school, started a fantastic food blog, called Mama's Gotta Bake and she posted this wonderfully looking lemon cake recipe from the Barefood Contessa.  The only problem … it wasn't gluten free!  But, with the help of my Gluten Free All Purpose Flour Blend, the problem was immediately fixed.  Boy oh boy was this a treat!!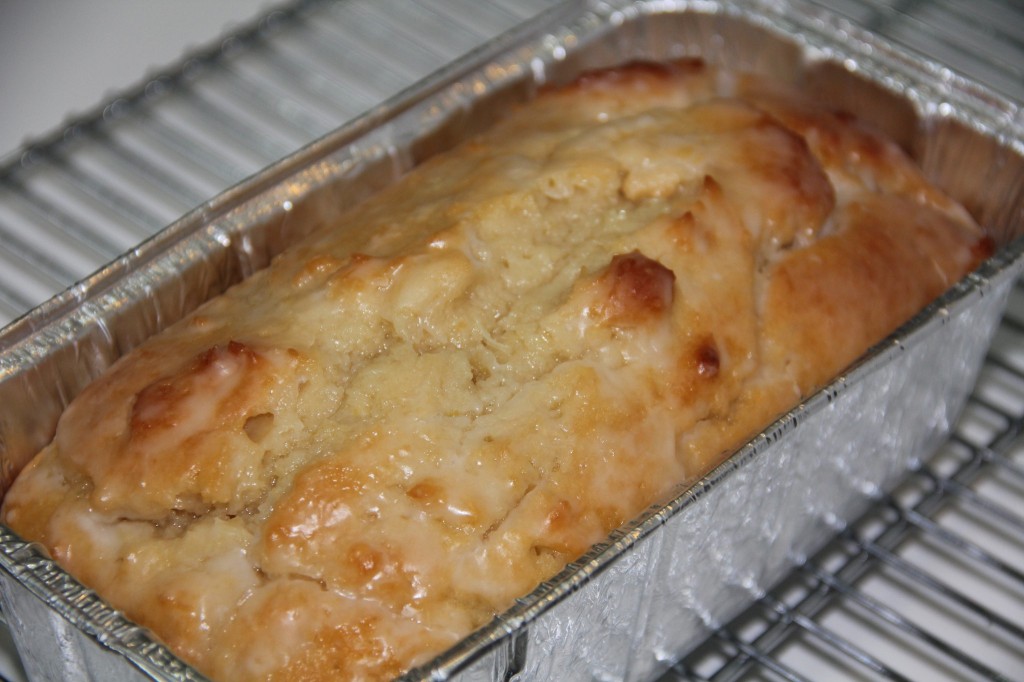 Lemon Cake
Adapted from Barefoot Contessa at Home
1 1/2 cups XO Baking Co. Gluten Free All Purpose Flour Blend
2 teaspoons baking powder
1/2 teaspoon salt
1 cup plain greek yogurt 
1 1/3 cups sugar, divided
3 extra-large eggs
2 teaspoons grated lemon zest (about 2 lemons)
1/2 teaspoon pure vanilla extract
1/2 cup vegetable oil
1/3 cup freshly squeezed lemon juice
For the glaze:
1 cup powdered sugar
2 tablespoons freshly squeezed lemon juice
Directions
Preheat the oven to 350 degrees F.   Grease an 8 1/2 x 4 1/4  inch loaf pan. For easy removal, line the bottom of the pan with parchment paper.
 In a medium bowl, whisk the flour, baking powder and salt together.  In another bowl, whisk together the yogurt, 1 cup sugar, the eggs, lemon zest and vanilla extract. Slowly add the dry ingredients into the wet ingredients, mixing by hand or with an electric mixer. Lastly, mix the vegetable oil into the batter, until smooth. Pour the batter into the prepared pan and bake for about 50 minutes, until a toothpick inserted into the middle of the cake comes out clean. 
Cook the 1/3 cup of lemon juice and remaining  1/3 cup sugar in a saucepan pan, over low to medium heat, until the sugar dissolves and the mixture is clear. Set aside.
When the cake is done, allow it to cool in the pan for 10 minutes. Carefully take cake out of pan and place on a cooling rack over a baking sheet. While the cake is still warm, take a toothpick or skewer and gently poke holes into cake and then pour the lemon-sugar mixture over the cake and allow it to soak in. Cool.
To make the  sugar glaze topping, whisk together the powdered sugar and lemon juice to a pourable consistency, and then pour over cake.
Enjoy!!