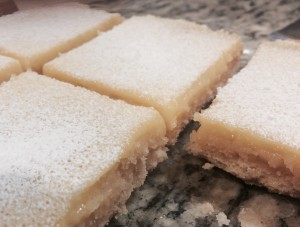 Old Fashioned Lemon Bars
Crust
1 ¾ cups XO Baking All Purpose Flour (approx. 220 grams)
2/3 cup Powdered Sugar
¼ cup cornstarch or arrowroot powder
¾ teaspoon fine salt
1 ½ sticks (6 oz)  cold unsalted butter
Lemon Filling
4 large eggs
1 1/3 cup sugar
3 tablespoons XO Baking All Purpose Flour
Zest from 2-3 lemons
2/3 cup fresh lemon juice
1/3 cup milk
1/8 tsp fine salt
Preheat oven to 350.
For crust, combine all dry ingredients in the bowl of a food processor, or electric mixer with paddle attachment.  Mix in cold butter until uniform crumb mixture forms.  Press onto the bottom of an ungreased 9×13 inch baking pan or dish.  Bake for 20 minutes, until crust is lightly golden.  Lower oven temp to 325.
Meanwhile, while crust is baking, prepare the lemon filling.  With an electric mixer combine all ingredients together.  Remove crust from oven and immediately pour lemon filling over crust.  Bake for 20-25 minutes, until middle of filling is set.
Cool before serving.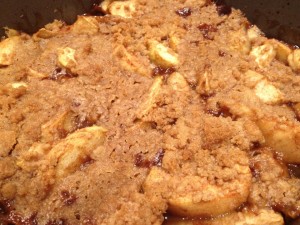 Makes about 8 servings
Filling:
6 granny smith apples (about 5 cups), peeled & sliced ½ inch thick
1 Tablespoon lemon juice
2 teaspoons ground cinnamon
½ cup granulated sugar
Crumb Topping:
½ cup brown sugar, firmly packed
1/3 cup XO Baking Co. All Purpose Flour Blend
½ teaspoon ground cinnamon
4 tablespoons (1/2 stick) cold unsalted butter
Directions:
Preheat oven to 375 degrees F.  In a medium bowl, combine sliced apples, lemon juice, cinnamon and sugar.  Mix with your hands to ensure even coating on apples. Pour apple mixture into a square baking pan or glass dish.
In a small mixing bowl, combine the brown sugar, flour, cinnamon and butter, and using your hands or a fork, mix the ingredients together until mixture is combined and small crumbs form.
Sprinkle crumb mixture over apples and bake for 25-30 minutes, until topping is golden brown and apples are tender.  Serve warm with vanilla ice cream & ENJOY!!