XO Baking Co. Chocolate Cake Mix
The most delicious chocolate cake! Our chocolate cake mix makes two layers, perfect enough to make a cake for any special occasion.  Top this light, moist and flavorful cake with our chocolate or vanilla frosting! Your friends and family will be speechless when you tell them it's gluten free! Order yours today!
Got Questions About XO Products? Ask Away!
Can I use your All Purpose Flour in my Grandmas chocolate cake recipe? 
Yes!
Our All Purpose Flour Blend has been formulated to replace regular All Purpose (wheat) flour, cup for cup, in any recipe. Use it for cakes, cookies, muffins, brownies, pie crust, quick breads, scones, pancakes, waffles and much more!
Find out more by reading our FAQ page
where questions about our kosher or vegan standing or the best way to store products are only a click away.
Where Can I Pick Up XO Baking Mixes In Stores?
In addition to online ordering, you can find  XO Baking Co. ™ Gluten Free Baking Mixes at a store near you using our online search tool! You'll find us in the finest Canadian retailers too. More and more stores are adding quality, great tasting XO Baking Co. products EVERYDAY! So ask your grocer where you can find it on their shelves!
Gluten Free/Vegan/Sugar Free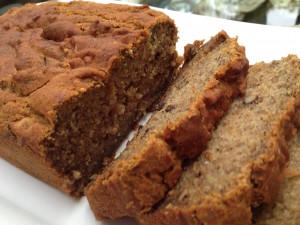 1 ½  Cups XO Baking Co. All Purpose Flour
1 tablespoon baking powder
1 ½ teaspoons baking soda
1 ½ teapoons cinnamon
½ teaspoon salt
1 ½ cups mashed over-ripe bananas (about 3 large)
2 tablespoons ground flax seeds mixed with 6 tablespoons water
1/3 cup vegetable oil
½ cup Agave Nectar
¼ cup non-dairy milk (coconut, almond, soy)
½ cup chopped walnuts or chocolate chips (optional)
Preheat oven to 350 Degrees F.  Position rack to the center of oven. Grease the bottom and sides of a standard 8" or 9" loaf pan with cooking spray.
Using an electric mixer, combine all ingredients (except walnuts) in a large bowl until smooth. Stir in chocolate chips and/or nuts, if desired.
Bake for 50-60 minutes. Bread is done when a toothpick inserted in the center comes out clean.
Cool for 10 minutes in pan, then remove and let bread cool completely on a cooling rack before serving.