XO Baking Co. Chocolate Cake Mix
The most delicious chocolate cake! Our chocolate cake mix makes two layers, perfect enough to make a cake for any special occasion.  Top this light, moist and flavorful cake with our chocolate or vanilla frosting! Your friends and family will be speechless when you tell them it's gluten free! Order yours today!
Got Questions About XO Products? Ask Away!
Can I use your All Purpose Flour in my Grandmas chocolate cake recipe? 
Yes!
Our All Purpose Flour Blend has been formulated to replace regular All Purpose (wheat) flour, cup for cup, in any recipe. Use it for cakes, cookies, muffins, brownies, pie crust, quick breads, scones, pancakes, waffles and much more!
Find out more by reading our FAQ page
where questions about our kosher or vegan standing or the best way to store products are only a click away.
Where Can I Pick Up XO Baking Mixes In Stores?
In addition to online ordering, you can find  XO Baking Co. ™ Gluten Free Baking Mixes at a store near you using our online search tool! You'll find us in the finest Canadian retailers too. More and more stores are adding quality, great tasting XO Baking Co. products EVERYDAY! So ask your grocer where you can find it on their shelves!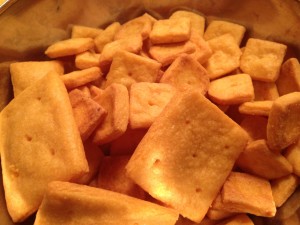 8 oz  ( 2   1/3 cup ) grated sharp cheddar cheese or other grated cheese of your choice
2 oz (¼ cup) cold butter cut into cubes
1 ¼ cup XO Baking Co. All Purpose Flour (to measure flour properly, spoon flour into measuring cup so it overflows, and level off with a knife)
¾  tsp salt
¼ tsp garlic powder
1/8 tsp  paprika
5-6 tbsp ice water
Place all ingredients except the ice water in the bowl of your food processor.
Process for 1 min or until all the cheese is incorporated with flour.
Add ice water by the tablespoon pulsing after each addition until dough forms. The dough should be easy to handle and not sticky.
Remove dough from food processor and knead with your hands for 20 seconds.
Preheat oven to 375F.
Lightly dust counter top with flour.  Roll dough to 1/8 thickness.
Use a small cookie cutter or just a knife and cut out desired shapes.  Put on a parchment  lined cookie sheet.  Bake about 15 minutes or until they have puffed and are beginning to turn brown on the edge. They should feel hard in the center when touched.
Remove from oven and carefully slide crackers onto a wire rack.  Cool completely and store in airtight container.
Dough and crackers freeze well.
Note:  You can play around with the flavors by adding herbs such as thyme, sage and rosemary, basil or oregano.