NEW! Mini Chocolate Chip Cookies – Snack Packs
The same XO Baking Co. taste you love, now in a ready to eat bite-sized treat!  These mini chocolate chip cookie snack packs are perfect for your kid's lunches or on-the-go snacking! Order today!
Got Questions About XO Products? Ask Away!
Can I use your All Purpose Flour in my Grandmas chocolate cake recipe? 
Yes!
Our All Purpose Flour Blend has been formulated to replace regular All Purpose (wheat) flour, cup for cup, in any recipe. Use it for cakes, cookies, muffins, brownies, pie crust, quick breads, scones, pancakes, waffles and much more!
Find out more by reading our FAQ page
where questions about our kosher or vegan standing or the best way to store products are only a click away.
Where Can I Pick Up XO Baking Mixes In Stores?
In addition to online ordering, you can find  XO Baking Co. ™ Gluten Free Baking Mixes at a store near you using our online search tool! You'll find us in the finest Canadian retailers too. More and more stores are adding quality, great tasting XO Baking Co. products EVERYDAY! So ask your grocer where you can find it on their shelves!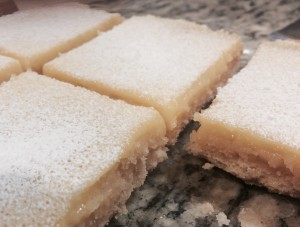 Old Fashioned Lemon Bars
Crust
1 ¾ cups XO Baking All Purpose Flour (approx. 220 grams)
2/3 cup Powdered Sugar
¼ cup cornstarch or arrowroot powder
¾ teaspoon fine salt
1 ½ sticks (6 oz)  cold unsalted butter
Lemon Filling
4 large eggs
1 1/3 cup sugar
3 tablespoons XO Baking All Purpose Flour
Zest from 2-3 lemons
2/3 cup fresh lemon juice
1/3 cup milk
1/8 tsp fine salt
Preheat oven to 350.
For crust, combine all dry ingredients in the bowl of a food processor, or electric mixer with paddle attachment.  Mix in cold butter until uniform crumb mixture forms.  Press onto the bottom of an ungreased 9×13 inch baking pan or dish.  Bake for 20 minutes, until crust is lightly golden.  Lower oven temp to 325.
Meanwhile, while crust is baking, prepare the lemon filling.  With an electric mixer combine all ingredients together.  Remove crust from oven and immediately pour lemon filling over crust.  Bake for 20-25 minutes, until middle of filling is set.
Cool before serving.