XO Baking Co. Chocolate Cake Mix
The most delicious chocolate cake! Our chocolate cake mix makes two layers, perfect enough to make a cake for any special occasion.  Top this light, moist and flavorful cake with our chocolate or vanilla frosting! Your friends and family will be speechless when you tell them it's gluten free! Order yours today!
Got Questions About XO Products? Ask Away!
Can I use your All Purpose Flour in my Grandmas chocolate cake recipe? 
Yes!
Our All Purpose Flour Blend has been formulated to replace regular All Purpose (wheat) flour, cup for cup, in any recipe. Use it for cakes, cookies, muffins, brownies, pie crust, quick breads, scones, pancakes, waffles and much more!
Find out more by reading our FAQ page
where questions about our kosher or vegan standing or the best way to store products are only a click away.
Where Can I Pick Up XO Baking Mixes In Stores?
In addition to online ordering, you can find  XO Baking Co. ™ Gluten Free Baking Mixes at a store near you using our online search tool! You'll find us in the finest Canadian retailers too. More and more stores are adding quality, great tasting XO Baking Co. products EVERYDAY! So ask your grocer where you can find it on their shelves!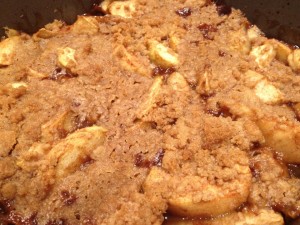 about 8 servings
Filling:
6 granny smith apples (about 5 cups), peeled & sliced ½ inch thick
1 Tablespoon lemon juice
2 teaspoons ground cinnamon
½ cup granulated sugar
Crumb Topping:
½ cup brown sugar, firmly packed
1/3 cup XO Baking Co. All Purpose Flour Blend
½ teaspoon ground cinnamon
4 tablespoons (1/2 stick) cold unsalted butter
Directions:
Preheat oven to 375 degrees F.  In a medium bowl, combine sliced apples, lemon juice, cinnamon and sugar.  Mix with your hands to ensure even coating on apples. Pour apple mixture into a square baking pan or glass dish.
In a small mixing bowl, combine the brown sugar, flour, cinnamon and butter, and using your hands or a fork, mix the ingredients together until mixture is combined and small crumbs form.
Sprinkle crumb mixture over apples and bake for 25-30 minutes, until topping is golden brown and apples are tender.  Serve warm with vanilla ice cream & ENJOY!!